Actress and Model
Carrie Stevens
Endorses Ultimate Workout and Recovery Complete Home Gym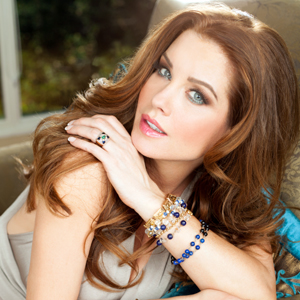 Carrie Stevens is an American actress and model. She was born in Buffalo, NY and grew up in the small town of Hardwick, Massachusetts. Memphis State University is where she studied Journalism and modeled locally, before she packed her bags headed for Hollywood. Carrie has been enjoying many years of landing dream jobs and gigs on hit TV shows and in major motion pictures. Carrie appeared in major magazines such as Cosmopolitan, Glamour, Allure, and in Playboy as Miss June 1997.

Carrie Stevens has been on the big screen, opposite Emmy winners Charlie Sheen and Jennifer Aniston, as well as Oscar winner Hillary Swank. She also appeared in "Rock Star" with Mark Wahlberg. She has starred in independent films, opposite exciting celebrities such as Jennifer Love Hewitt, John Taylor (Duran Duran) and Don "The Dragon" Wilson. Carrie has had numerous guest star and recurring roles in television shows such as "Two and a Half Men", "Beverly Hills 90210" or "Days of Our Lives", or Sci-Fi's "Black Scorpion". Carrie has hosted three one hour shows for E! Entertainment Television", including 'Wild On" and "FYI". She has even been in music videos. FYI - You might remember her as the girl climbing the human chain as she starred in Third Eye Blind's "Never Let You Go" music video.

Some of Stevens' commercial ads include Lexus, Miller Ice, Starwood Resorts, Cyberswim, Toyota, Little Caesar's, Killian's Irish Red Beer, American Laser Centers, Obagi Skin Care, Botox, Graco, and Ferro Cosmetics. In 2013, she beat out 40,000 home cooks to get in the top 100 finalists on Fox's MasterChef. Her specialty is "Carrie Stevens Infamous Fudge", available for sale online www.infamousfudge.com.

She resides in the Los Angeles area with her son, Jaxon. During her pregnancy she gained 68 pounds, but with fierce determination she lost 74 pounds. Carrie has always enjoyed Pilates and weight training and hiking, and being active physically. There have been several times in the life when she was limited in what she could do because of injuries including herniated discs & fractures. Carrie has a degenerative disc disease and prefers a gentle workout. Carrie enjoys staying in shape with no risk of injury using the Ultimate Workout and Recovery Gym.

You can see more of Carrie and order autographed memorabilia on her web site, www.carriestevens.com.