The rate of cardiovascular diseases are on the rise— especially for Women. OBESITY, especially in CHILDREN continue to climb. IT'S TIME FOR CHANGE with a simple solution that does NOT require a costly membership to a gym nor an enormous section of your house. The SOLUTION is simple. It's time for Americans to take control of their health, fitness, rehabilitation, and overall WELLNESS with one comprehensive tool!

DELUXE PORTABLE & VERSATILE EXERCISE/REHAB GYM IS
THE ULTIMATE ZERO IMPACT WEIGHT LOSS, STRENGTH TRAINING, REHABILITATION SYSTEM.

The Ultimate Workout And Recovery Spider System (UWAR) benefits wounded warriors and veterans, athletes, paraplegics and spinal cord injury patients, and bariatric patients, cancer and immune- compromised patients, stay-at-home mothers, care givers, occupational and physical therapists, senior centers, nursing homes, veterans hospitals, rehab clinics, fitness enthusiasts, personal trainers, chiropractors, and anywhere this unit would aid those Stuck-In-Bed achieve maximum fitness and recovery.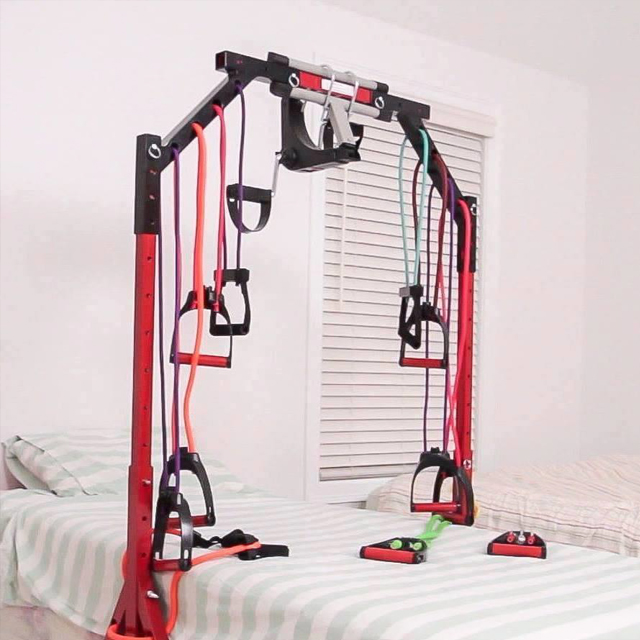 *EASY SETUP * ZERO IMPACT * ADJUSTABLE RESISTANCE * CARDIO CONDITIONING *
* STRENGTH * RANGE OF MOTION * TRANSPORTABLE * ADAPTABLE *

At any level of function, veterans and their families/friends can benefit from the ability to work out anywhere, anytime, with this device. The full-size system allows a cardio workout while in a bed or chair, and virtually all muscle groups may be strengthened and toned - while in bed or chair!

USE IT OR LOSE IT applies to people of all ability levels. Imagine easily doing a cardio workout while in a wheelchair, or doing resistance and range of motion exercise while in bed, unattended.


''We are the ULTIMATE anti-atrophy anti depression and anti-obesity fitness and recovery tool of convenience for the ENTIRE family! Busy moms, restless kids and adults whether disabled or able-bodied, this is THE chance to get fit fast and in the most convenient way possible, nothing better than learning wellness early on in a safe way-get to know us!" - Team UWAR

Designed in the USA. Trademarked. Patented.

Target Demographic
Wounded warriors and veterans
Athletes
Paraplegics and spinal cord injuries, and bariatric patients
Cancer and immune-compromised patients
Stay-At-Home Mothers
Caregivers
Occupational and Physical Therapists
Senior Centers
Nursing Homes
Veterans Hospitals
Rehab Clinics
Fitness Enthusiasts
Personal Trainers
Chiropractors
Wheelchair users
Childhood obesity
Bariatric patients
Children with disabilities
Spinal cord injured and more
Hospital Rooms and Rehab Centers Seniors
Exercise & Weight Loss
Wheelchair Users & Spinal Cord Injured Bed Bound
Teens & Children

Included in The Ultimate Workout and Recovery Spider System
1 Steel-Forged Aluminum Device
2 Thresholds to Secure System on Bed, Recliner or Wheelchair
8 Resistance Cords with Different Resistance Levels (10-50 lbs)
8 Handles/Triple Cord Grips
1 Hand or Foot Cardio Pedaler
3 Rejuvenating Stress Balls
1 Fun to Use Massage Roller & DVD ($40 Value Free!)
1 Pair of Attractive Workout Gloves
6-8 Lock Pins & 4 Wing Nuts, Screws and Washers

For more information, go to www.workoutandrecovery.com